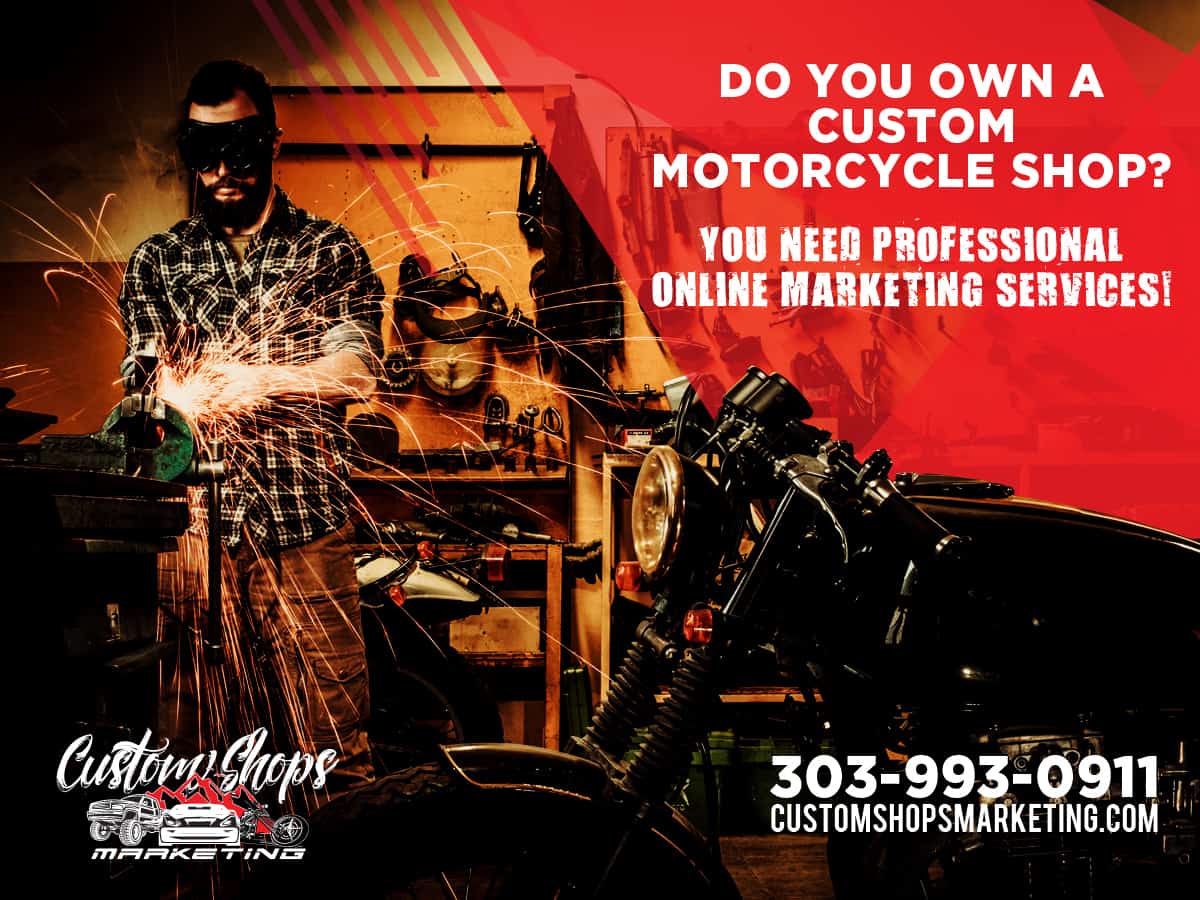 Online Marketing for Custom Motorcycle Shops
If you own or manage a motorcycle shop that does custom work, you have most likely realized that it's essential to be able to market your services outside of your "local" area. Custom motorcycle work is a specialized niche, not something that everyone in the populace area needs or wants. Therefore, it's important to understand how to market your business effectively online.
Why is Online Marketing Important?
The days of putting an ad in the local paper or depending on good "word of mouth" are gone, for the most part. We are not saying that you shouldn't do local advertising or rely on a good verbal reputation. It's just that more and more potential clients are not buying a daily newspaper, and those that check the local news online aren't really looking at the ads for the most part.
Most potential buyers of any service or product, are searching online. And, out of all of those doing so, more are searching on a mobile device than on a pc or laptop.
Understanding Online Marketing – Two Most Important Factors
There are many different things a successful business should do together to keep getting phone calls and customers in the door. There are very basic things that need to be done.
The two most important things every business should concentrate on are having a well-built and optimized website and having a good SEO structure in place to drive the folks looking for your services to your website and keep them there.
SEO is Search Engine Optimization. This means you want to focus on keywords or key-phrases that the customer will be using to search for what they want. For example, if you specialize is converting motorbikes to trikes, you want to use keywords that you know the customer will type into a Google (or another browser) search. Main keywords or phrases would be: convert motorcycle to trike, convert bike to trike, motorcycle trike conversions.
Each of the pages on your website need to be optimized with the main keywords to funnel customers right to you. By having an attractive and well-designed website, you will keep them there looking at your services and specials and blogs
Building Good Relationships with Online Marketing
One of the most important aspects of internet marketing for any custom motorcycle shop is the fact that it allows you to communicate and build relationships with customers and potential customers for a low cost. There are many different methods to accomplish
this. Social Media and Blogging are just two low-cost and simple ways to stay connected with them.
Staying in front of them with good content will always keep your custom motorcycle shop fresh in their mind. Sometimes just suggesting services or products in a blog or social media post can have them picking up the phone to schedule an appointment or ask questions. Keep the good relationships by taking the time to interact. It will pay off!
Other Online Marketing Services We Offer
We don't just handle website design, optimization and SEO for your custom motorcycle shop. There are many different services that we provide. Many successful businesses mix and match according to their specific needs – after they have laid the foundation with the most important items (Website and SEO).
Reputation Marketing with our Positive Client Reviews Software
PPC – Pay Per Click Ads
Google My Business
Social Media Marketing
Graphic Design
Email Marketing
Instagram and Instagram Stories Graphics and Videos
We Will Help You Determine What You Need
We offer a free strategy session to go over the strengths and weaknesses in your online marketing presence. This will enable you to decide what you would like to do that is within your own defined budget. There is no obligation and we don't require you to sign up for any services.
If you would like a free strategy session, please just click the link below!